Do you want to cook cookies or baking cakes? Will you use a handheld or stand mixers to mix your dough?or batter? In fact, there are not any exact right or wrong answers for this question. It depends on your specific cooking demands and which kinds of food you cook.
You can see more how to choose the best hand held mixers for your kitchen at my blog in this article, I will give you the information about benefits and drawback's discovery of both stand and hand mixers so that you choose the most suitable one.
What Is the handheld Mixer?
In general, this is only hand mixing tool. There are two kinds
The Eggbeater (Rotary Hand Beater):
This hand tool is attached to its side's crank which is connected to 2 beaters normally. You will utilize two hands or one hand to handle it by means of keeping the top of its beater firmly while another runs its side's crank to create the beating.
The Electric Handheld Mixer:
Generally, this electric hand mixer is more modern than the mentioned version above but it is attached to a motor encased the top handle of machine. This motor will help beater move in place of cranking the handle.
Benefit:
It is cheaper than a stand mixer machine
It is very easy and quick to clean
It just take a small space your kitchen
This machine fits to the quick cooking tasks as egg whites and whipping cream.
Unlike the beaters, users can utilize this kind of mixer in any mixing bowls.
Drawback:
Because of its small shape, the mixing capacity is not strong enough in comparison with the stand mixer model.
In the event of your not steady hands, the mixture in bowl will easily splash out of when the mixing bowl is not put in the fixed and right position.
It will be very difficult for you to maneuver the small machine in a bowl with a very thick batter.
What Is the Stand Mixer?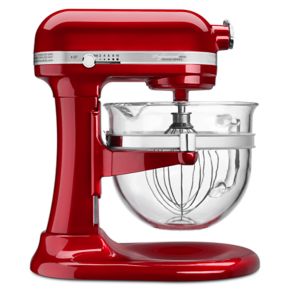 The Cadillac Of Mixer.
Normally, unlike the hand mixer, the stand model is always attached to a frame acting like the heavy-duty motor's housing and the bowl's mounting base due to its design suits to the lock and mixer in place when mixing.
In fact, the commercial stand model is able to hold upward of 100 liquid quarts while the bowl of home mixer can just hold 4 liquid quarts. Therefore, the home machine fits to be held on the kitchen's countertop while the commercial stand one is usually installed on the floor.
A stand mixer always gets many different mixing attachments such as paddle (flat beater) that is very good to mix and cream, the whisk item which is utilized to whip egg whites or cream, the dough hook that is used in order to knead the heavy dough (bread dough)
Advantages:
It will be very difficult for you meet cases splashing the batter out of your mixing bowl
With this machine, you can walk away without needing hold your mixing bowl or model during the mixing time like within six minutes on account of its stable feature.
You are able to not only mix quicker but also create a thick dough and batter.
Some of stand mixer models are attached to whistle and bell as automatic stop, timer and the like.
Disadvantages:
It is quite cumbersome to clean its different parts.
Unlike the normal handheld mixers, this type of stand mixer is very expensive.
It takes a part of your kitchen's quite big space because of its big and heavy shape.